Meet the inaugural 100 Rising Latinx Founders to Watch!
Innovation is at its best when it includes a diversity of thought and experiences.
Inicio Ventures is an impact fund manager and ecosystem builder focused on bridging the US Latinx wealth gap by increasing our communities participation and success in the startup ecosystem. We know that innovation talent is distributed equally, but opportunity and capital have not been. Changing the status quo requires a collective effort to inspire, uncover, support, and amplify Latinx founders across all sectors and regions.
The 100 Rising Latinx Founders to Watch is an annual publication showcasing the inspirational US-based Latinx founders who through their life stories, leadership, accomplishments, and startup vision are making a significant difference and are poised for success. To be included in this list, the founders needed to identify as Latinx, their startups had to be based in the US and they have raised less than $1M in capital. We firmly believe every 100 is a sample of the depth and breadth of the Latinx startup talent pipeline–investable and ready for your support.
This year's Rising 100 Latinx founders can be found across sectors, locations and demographics.
Here is a snapshot of the numbers: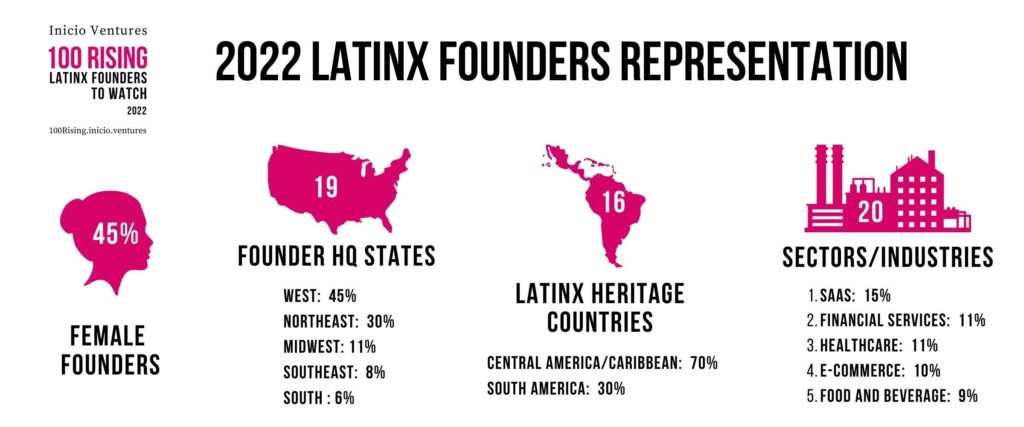 This project was led by an equally impressive team of MBA and Graduate students participating in our Inclusive Investing Venture Fellows program.  These next generation investors and leaders performed the research, sourcing, nomination process, vetting and profile development necessary to help publish this inaugural 100 Rising Latinx Founders to Watch list.  We are grateful for what you have started:  
In addition to the 100 web profiles below, we would like to help you access these incredible founders by providing you with our open sourced database here